What's the difference between lace front wig and headband wig
•
Posted on April 16 2023
What is a lace frontal wig?
Cheap human hair lace front wig is a wig with a circle of lace in front of the wig. The standard size is 13x4 inches, extending 4 inches backward and 13 inches horizontally. This wig perfectly covers the hairline for a natural and authentic look. Human hair lace front wig is very flexible. You can create various hairstyles in the middle and sides, or wear a ponytail.
What is a headband wig?
Headband wig is a wig composed of wig and headband. The headband covers the front hairline, and the wig is sewn on the soft wig cap. Some people call this kind of wig semi wig. The appearance of the hair band avoids the problem of hairline, and it looks very fashionable and novel. Because the hair band can be replaced at will, you can buy more hair bands and replace them, so you can have a different mood.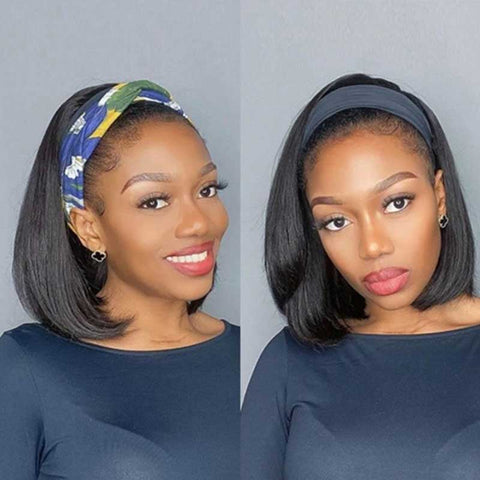 What's the difference between a lace front wig and a headband wig?
Materials used
Lace front the front of the wig is made of lace, roughly covering the area from ear to ear, and the back is made of thick but comfortable material.
The front of the headband wig adopts different styles of hair bands, which can not only cover the hairline, but also play a good decorative role. On the back is a hair cap made of cloth without any lace.
Natural appearance
The half round lace on the front wig is very light and breathable, and the lace color can be close to the skin color. It is difficult for people to see the connection between wig and scalp, resulting in the illusion of their original hair.
The material used in front of the headband wig is the headband. Many people ignore the hairline of wigs and think that they wear hair bands just to decorate themselves and make themselves look more fashionable.
Style
The front of the lace wig looks natural because lace is almost invisible. Hair can be split in the middle or on both sides. Similarly, the lace front wig is only glued to the head with adhesive on the hairline above the forehead.
Because there is a headband limit in front of the headband wig, the wig will be combed back as a whole, so there is not much freedom in the separate parts. Few people divide their hair into the middle behind the headband.
Price
Lace front wig is made of lace, which is very light and breathable, making the shape more changeable and the separation part more free. It can create a very natural effect, so it is relatively more expensive than wearing a headband wig.
Other texture of wigs:  straight wig, curly wig, body wave wig, water wave wig, loose deep wave wig
1B VS 2 Hair Color

When it comes to hair color, there are a variety of shades to choose from. Choosing the right hair color can have a big impact on enhancing your ov...

Read More

Go For Water Wave H...

Water wave hair is a textured style that mimics the look of natural waves. This is a popular option for those who want to add volume and dimension ...

Read More

How Short Hair Wigs...

If you are used to longer hair and are looking for something different, or perhaps looking for a wig style that is easy to wear and maintain, then ...

Read More