What should you know before buying a headband wig
•
Posted on December 16 2021
Wearing a wig with a headband was popular a long time ago. After a period of silence, it has gradually become popular again recently. The fashion of retro headband is whirlwind. It intoxicates people all over the world with its simple and typical style. From west to East, the wind is still so strong. Everyone is fashion conscious, especially girls. Before buying a headband wig, you should know something. Please continue to read.
1. What is a headband wig?
Headband wigs are different from other headband wigs in appearance, because each headband wig has an additional headband for decoration. This makes the headband wig more special than other ordinary wigs. The headband wig has no lace. It only has a breathable elastic mesh cap covering four-thirds of the head, and the rest is covered with an ice silk headband. Because there is no lace on the headband wig, its price is cheaper and more competitive than other wigs. For those with limited budget, we suggest you consider buying a wig, which is a good choice.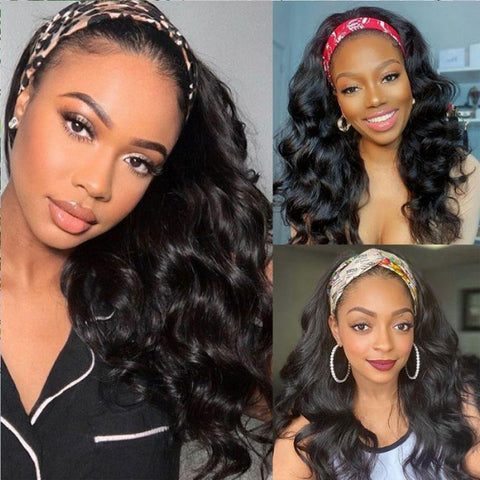 2. How to install a headband wig?
Headband wig is also known as beginner and lazy girl friendly wig, because it is easy to go up and down, and only takes 2 minutes and 5 steps to complete the perfect installation. The following is detailed information about the installation steps, which you can see in resources.
1) Comb your hair back.
2) Put on and tighten the wig with Velcro.
3) Make up your baby naturally.
4) Put on your headband and do what you like.
5) Freely exchange hairstyles.

3. How to design a headband wig?
There are two ways to design a headband wig, one is through some hair accessories, the other is through your own hairstyle.
1) Hair accessories
Most fashionable girls usually use different hair accessories to create different hairstyles, such as hair bands, hair bands, ribbons and scarves. Now in supernova hair, buy a headband wig and get two free headbands as gifts. In addition, we also offer Rhinestone and crystal headbands at a unique low price on the "bonus purchase" checkout page.
2) Do your hair with dexterous hands
In addition to using hair accessories to do hair, some skillful people can also do hair directly. For example, comb your hair to your shoulders, or tie it in a bun or ponytail. All the beautiful hairstyles are waiting for you to describe the use of skills.
Other wigs: 360 lace wig, curly wigs, bob wig, blonde wig
1B VS 2 Hair Color

When it comes to hair color, there are a variety of shades to choose from. Choosing the right hair color can have a big impact on enhancing your ov...

Read More

Go For Water Wave H...

Water wave hair is a textured style that mimics the look of natural waves. This is a popular option for those who want to add volume and dimension ...

Read More

How Short Hair Wigs...

If you are used to longer hair and are looking for something different, or perhaps looking for a wig style that is easy to wear and maintain, then ...

Read More