How to store lace wigs correctly
•
Posted on November 30 2021
If conditions permit, it is best to hang a human hair wig on a spherical support. It can also be placed one by one in a cabinet or in a bag. Straighten the wig before putting it in the bag, and then put it in the bag. If it's a long bag, put your head on it first, and then turn the wig upside down. Spray anti-static wig softener when wearing to prevent curling. Shake it and put it on.
If the lace front wig is often worn, it can be padded in a hood with high support, and the hair can be combed into the original shape by hand or a wide tooth comb. When combing, pay attention to comb from the hair tip first, and then comb upward gradually. Pay attention not to pull hard, because this will roll the hair into small curls.
If you don't wear it often, tidy up your hair, put a thick paper ball on the inside of the headdress, and then put on a hair net for packaging (usually included in the packaging when buying). Be careful not to tighten the wig too tightly. Transform it, and then place it flat in the box. Pay attention to the size of the box to ensure that the wig will not deform.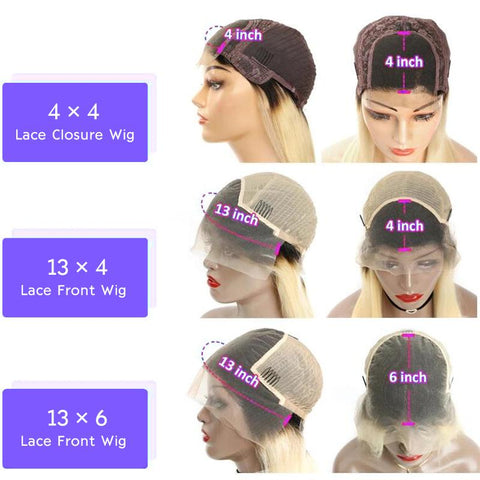 Other precautions:
1. When the wig leaves the factory, there are basically three kinds of accessories. Plastic bags, cardboard boxes and soft hair nets. Unless you sell wigs like me and fly around the house, please take it out and collect these three "treasures".

2. When taking off the wig, please pay attention to avoid confusion as far as possible.
If it's a Short Bob Wig, you can take care of your hand a little, put it in a soft hair net, and then install it in the original package. When following the wig, pay attention to the soft hair net and don't let the inside of the wig be messy. Otherwise, if you leave it for a long time, the next time you take out a wig, your hair will flutter.
If it's long hair (more than 24 inches), remember that when you don't wear special tools, don't hold a comb in one hand and a wig in the other, and then comb it in a mess. It's completely useless. It's easy to comb wigs. If you have long hair, collect the wig in the direction it naturally sags, and then rotate it several times from the end of the hair. It is best to put the whole wig in the original package and return home for special care.

3. After returning home, short wigs and unused modeling glue can be directly placed in the original packaging, but try not to be stabbed. Even the best wigs will deform after a long time.
Wigs under and including 24 inches only need to be combed and reassembled.
After using long hair over 24 inches, as appropriate. Hang it up in a place where you can fix the wig, and then comb the wig. If you can solve it, you don't need to be very careful. Where special care is needed.
Alibonnie has been focused on the beauty of black women since the beginning, we aim to supply top quality wigs that all girls could afford. Our wigs are 100% virgin human hair which means the hair of one wig is from one donor. Whatever you are a wig new beginner or someone looking for cheap, real, best human hair wigs online, choose Alibonnie, you will be satisfied customer. We have HD lace wigs, lace front wigs, 360 lace wig, headband wig, curly wigs, bob wig, blonde wig, v part wig,  colored wigs for your choice.
6 Must-Have Glamoro...

Do blondes really have more fun? Are you itching to try blonde hair? Not only does blonde hair make you stand out from the crowd, but you look radi...

Read More

2023 Popular Hair T...

A little change in hair color can go a long way toward trying out a new look and giving you confidence and fun. We all know that choosing the right...

Read More

Get The Best Lace F...

What is a lace front wig? Why are lace front wigs so popular? How to maintain your lace front wig? If you are a senior fan of lace front wigs, then...

Read More