Can wearing a wig damage your hair?
•
Posted on April 11 2023
Even though human hair wigs are very popular now, many people still want to ask "if I wear wigs, will I risk damaging my hair?" the answer to this question is of course no! Nowadays, wigs are still misunderstood by many people. They believe that wearing wigs will damage their hairline and lead to baldness, scalp inflammation or mildew.
To some extent, the above situations will happen, but they can be completely avoided, so in fact, wearing wigs will not damage people's hair tissue, but also have many benefits. So how to avoid the harm caused by wearing wigs to your hair has become a very important problem.

Curly wig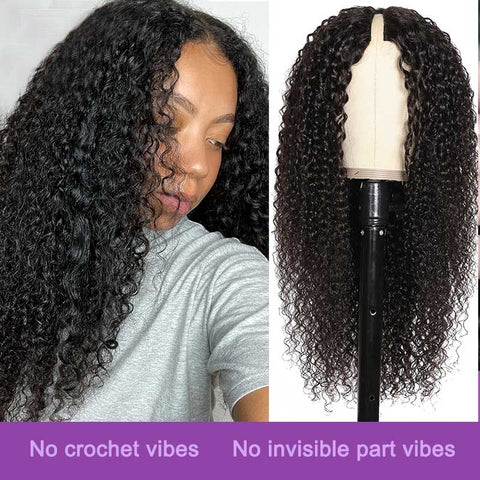 1. Prevent wig damage.
1.1 select the size of human hair wig cap and wear wig cap
According to your head circumference, it is very important to choose the right hat size. Too small will cause pressure on the scalp, which is not conducive to hair growth.
When you wear a human hair lace wig, you also need to wear a wig cap. It is a bridge between your natural hair and the wig and can help your scalp avoid the pressure directly from the wig.
1.2 use proper glue
When wearing a wig, you must choose the right glue. If you want to buy a new glue, you'd better do a test on a small part of your skin to reduce the damage of the glue to your hairline.
1.3 wash your hair regularly
Taking care of your natural hair and wigs is one of the most important things you need to do so that they don't become dry and fragile without any cleaning and conditioning.
In order to keep your hair and wigs healthy, it is beneficial to wash them often. Before wearing a wig, you need to make sure your hair is completely dry, because any moisture under the wig will cause bacterial growth and hairline problems.
2. Benefits of wearing wigs
2.1 help people become more beautiful.
Wigs can have many different hairstyles and colors, whether straight or curly, whether natural or other colors. Wearing wigs, you can get various shapes.
2.2. Help people protect their hair.
When people wear wigs, their own hair is under the wig cap, so they will not directly contact the outside, so it reduces many factors that may cause hair damage, such as sunlight and bad air. At the same time, because all hair is under the wig cap, people do not need to dye their hair to match the color of the wig they buy, which indirectly reduces the damage that dyeing may cause to natural hair.
2.3 very convenient
The wig has a comb and adjustable shoulder straps. People can use them to adjust the size of wigs to fit their heads. Even novices do not need long-term professional guidance. When people want to change their hair style, if you are good at installing wigs, we believe wigs will save people a lot of time.
For many people, perhaps finding an easy to wear wig can solve these problems, start enjoying the benefits of wigs, and then choose a headband wig.

Headband wig

Like the name of headband wig, it is the perfect combination of hair and headband. There are many styles of headband wigs. Like ordinary wigs, they are also fixed by headband. No glue is needed. It also has many advantages:
Easy to wear, everyone can wear it freely without looking for professionals or using glue, so it won't damage your hairline.
Save time. Office workers can save a lot of time in a hurry. Even if you rush to an important appointment, you don't have to worry about your hair.
Comfortable for all heads. The headband is initially black. You can choose different styles of headband according to your mood and dress.
If I wear a wig, will I risk damaging my hair? Please don't ask again. Just choose your favorite wig and enjoy your wig!
Alibonnie has been focused on the beauty of black women since the beginning, we aim to supply top quality wigs that all girls could afford. Our wigs are 100% virgin human hair which means the hair of one wig is from one donor. Whatever you are a wig new beginner or someone looking for cheap, real, best human hair wigs online, choose Alibonnie, you will be satisfied customer. We have HD lace wigs, lace front wigs, 360 lace wig,headband wig,curly wigs, bob wig, blonde wig, colored wigs for your choice.
1B VS 2 Hair Color

When it comes to hair color, there are a variety of shades to choose from. Choosing the right hair color can have a big impact on enhancing your ov...

Read More

Go For Water Wave H...

Water wave hair is a textured style that mimics the look of natural waves. This is a popular option for those who want to add volume and dimension ...

Read More

How Short Hair Wigs...

If you are used to longer hair and are looking for something different, or perhaps looking for a wig style that is easy to wear and maintain, then ...

Read More